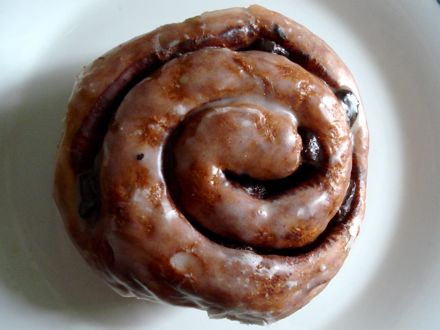 Doughnut Plant is probably the only eating establishment I have visited twice in one day. It's that good.
First, there are the yeast donuts, in glazed, jelly-filled, and creme-filled varieties. They're squarish, faced-sized and unbelievably light, with airy, melty dough under a sticky layer of sweet glaze ($2). Perennial faves are vanilla bean, Vahlrona chocolate (messy), and peanut butter and jelly. There's a rainbow of seasonal flavors too, including fresh strawberry, pomegranate, pumpkin, and banana pecan. Vanilla is simplicity perfected if you usually find donuts too sweet or too fried. Often there's one fresh from the oven on a baking sheet poking through the kitchen window, and they'll drop that one in your bag instead of the one on display in the shelves.
Then there are the cake donuts–smaller, round with a hole, with a more condensed, doughier middle; a closer relative to the traditional donut (think Krispy Kreme). Tres Leches ($2) has a ring of sweet custard running through it–a phenomenal improvement over Boston Creme, because you get just a little bit of creme with every bite. If you must try only one donut here, get this one.
There are the cinnamon rolls, huge doughy spirals encased in a crackling glaze, spiked with swollen raisins, and cinnamon-sugary filling growing more concentrated as you eat your way into its sticky heart.
And finally there's the dude behind the counter, who is pretty much the embodiment of the happy gourmand donut shopping vibe. He's always smiling. I love buying donuts from that guy.
There's only a couple of seats, so count on getting your donuts to go, and munching your way down Grand Street. Plan to get an extra one, so you don't have to make that second trip.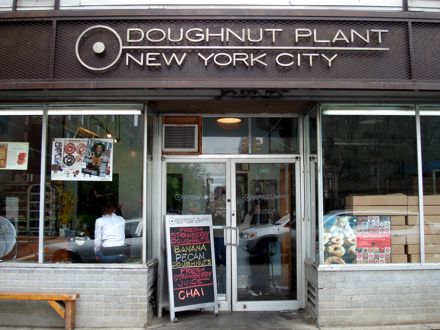 Doughnut Plant, 379 Grand Street (also sold at Dean & Deluca, but best to go to the source)
Tues-Sun 6:30 am – 6:30 pm