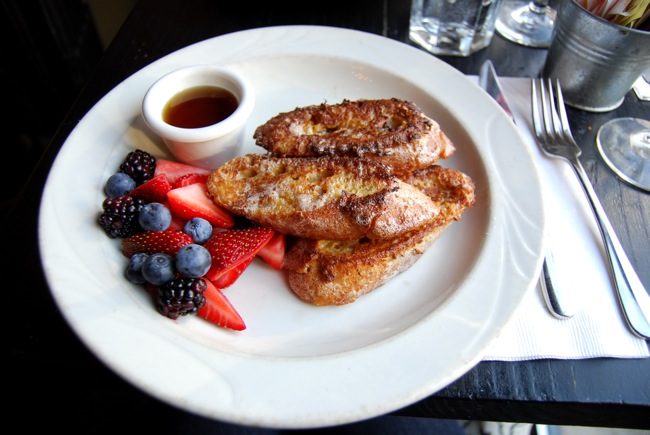 Until recently, I didn't do brunch. Actually, that's something of an understatement. I used to start my weekend with a large black coffee, a Camel Light, and a quick jaunt to the puppy run. Now that I've ditched coffee and cigs I've been exploring new indulgences, betraying my inner Spartan by dabbling with things like french toast and morning cocktails.
Braving brunchtime hordes to find decent french toast can be arduous, so it's rewarding when you find a place that's gifted with their griddle. Cafe Condesa in the West Village uses what looks like french bread as opposed to the ubiquitous challah in their french toast. It's relatively light, buttery-crisp on the outside but soft and eggy in the middle, and served with fresh berries ($7.75). My side of scrambled eggs were cooked to fluffy perfection ($2.50) but I could have done without the champagne with muddled strawberries which at $9 doubled the cost of an otherwise reasonably-priced and very satisfying meal.
This austere little cafe only has a few seats so expect a short, awkward wait and if it's a cold day, beware the table for two by the front door, which doesn't completely shut.
Cafe Condesa Brunch menu – served Sat and Sun 11am-5pm
Cafe Condesa, 183 West 10th Street at Seventh Avenue