Supper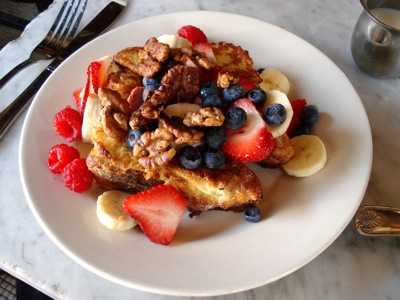 If I were to describe my ideal brunch, it would sound a lot like the one I had at recently at Supper. We rolled up at around 10:30am on a Saturday and were seated immediately in a shady spot on the sidewalk patio–no wait list, no hungry mob, and given the lack of foot traffic on East 2nd Street, I could easily imagine I was in a tranquil little spot upstate. Bold, fresh-brewed coffee laced with crema arrived on gleaming white saucers, along with a plate of fresh crusty bread and spicy white beans soaked in olive oil. Most appetizers only seem to fill me up, but this one properly whetted my appetite for some of the best french toast in the city. A pile of plump berries, bananas, and pecans nearly hid two slices of thick challah that were cooked with a buttery-crisp crust while remaining moist and chewy within ($9.95). A pat of raspberry butter–a nice touch–slowly melted its way into the dense, eggy bread. I've had superb French toast at both Franie's Spuntino and Café Condessa, but Supper might be my top pick.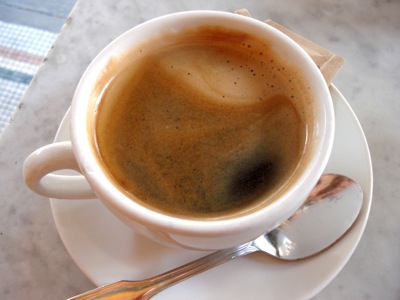 Eating french toast, while wonderful, is a little like having dessert to start your day, so I ordered grilled polenta, which they also serve at dinner. This was the more intriguing, if complicated dish. Two perfectly-poached eggs perched on four bars of rich polenta, served on a bed of prosciutto, under a mass of shaved fennel. With parmigiano cheese angled on top. Each ingredient individually was quite good, but I wasn't quite successful at combining the pieces on my fork—they ought to throw this sucker on a sandwich! A side of thick-cut, crispy bacon provided a familiar, savory respite ($5.95). All told, two dishes were plenty to share between two people. With the bacon and with two coffees our bill came to $36 (minus tip).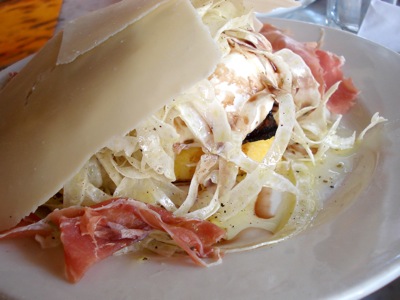 Perhaps we lucked out by arriving earliy-ish, because judging from the food, the queues at dinner, and the popularity of the other two restaurants from this crew (Frank and Lil' Frankie's) I'd expect there to be more lines for brunch at Supper. Fortunately, you can get all this delivered. A roasted fennel and fontina omlette ($11.95) with a side of bread and mixed greens traveled quite well to my doorstep, while the french toast, in its pool of butter and berries, was a little bit worse for the journey.
Supper
156 E. 2nd Street between Ave. A and Ave. B
Mon-Thurs 8am-12am, Fri 8am-1am, Sat 10am-1am, Sun 10am-12am
Cash only, $10 minimum delivery (212) 477-7600