Red Hook Lobster Pound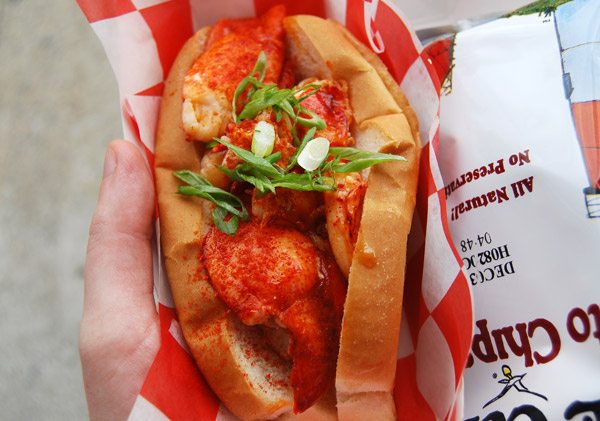 If you enjoy vistas of deserted industrial streets and dramatic harbor skies, Red Hook is the hood for you. Now that Red Hook Lobster Pound has opened shop, lobster-lovers in particular have been finding the trek worthwhile.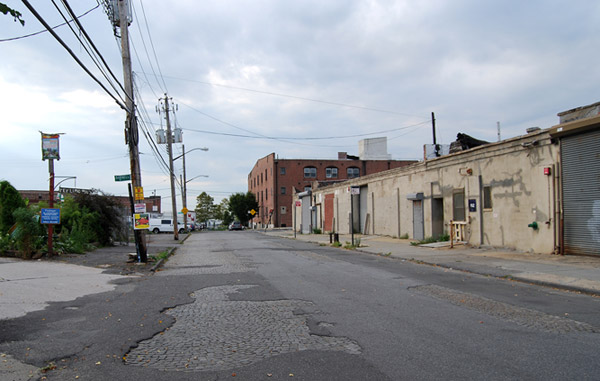 (looking down Van Dyke Street, Red Hook)
Ever since Luke's Lobster opened in the East Village, I've consumed more lobster rolls than I care to admit, including a couple from the enigmatic home-cooked lobster roll "dealer," Dr. Claw. Sadly, Dr. Claw was shut down by the Department of Health in August for running an underground lobster roll operation out of his apartment, but when he was in business he bought his crustaceans from the Red Hook Lobster Pound. Taste-wise, Dr. Claw's rolls were totally legit. But I couldn't really see the outsized persona (we're talking shades, gold lobster claw bling, and third-person self-referencing) and the novelty of exchanging cash on the street for a hot paper bag, NOT attracting attention. (The article at the NYmag link has some interesting info about why lobster is suddenly affordable street fare by the way). I hope Dr. Claw is back in a DOH-blessed operation soon, but generally I'm happy to cut through the pretense and go to the source.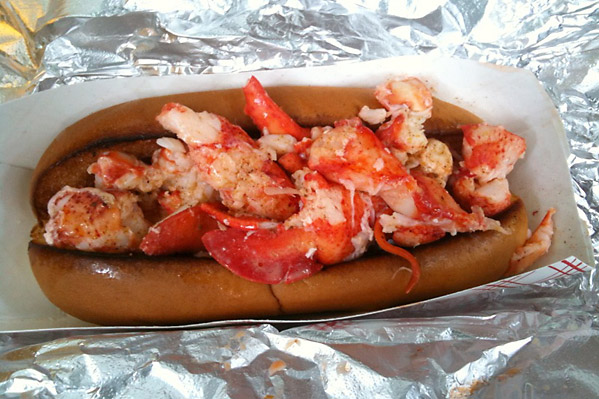 (a shot of one of Dr. Claw's deliciously basic creations, before the bust)
The Red Hook Lobster Pound is located on steadily gentrifying Van Brunt Street, which is relatively lively with shops, galleries, and restaurants. Inside the pound, two large vats hold live, fresh-catch lobsters trucked in from Maine. They're available for purchase although they encourage reservations on weekends. Rolls are ordered up at the counter, and seating consists of a bench outside or a picnic area next door.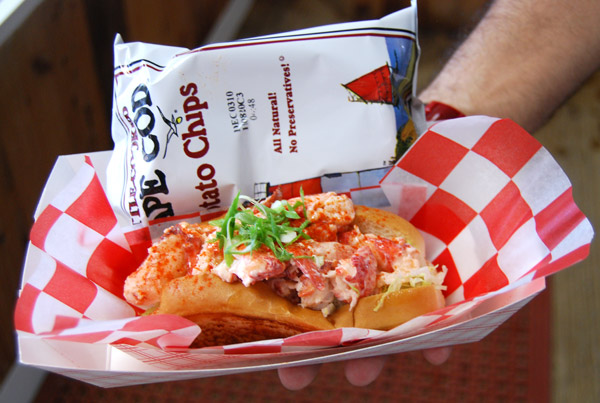 I ordered a Connecticut-style lobster roll ($15 and pictured at the top of the post), which was served with grilled lobster meat topped with lots of butter, paprika, and scallions in a toasted split-top bun. The roll comes with chips and a pickle, and ginger ale was $2.50 extra. My friend got the Maine-style roll (pictured above), which had cold meat lightly dressed in mayonnaise. Both were excellent and filled with huge chunks of delicate claw meat. I slightly preferred the Maine version, since I couldn't resist eating the Connecticut roll long enough for the lobster to cool and quit burning my tongue. My friend slightly preferred the less mayonnaisey version at Luke's, and I thought the toasted bread at the Pound was a bit better, but we thought they were pretty much neck-in-neck. The amount of lobster in the rolls was generous at both places but the total price when you included the soda was slightly steeper at the Pound than at Luke's, where a drink is included for $16.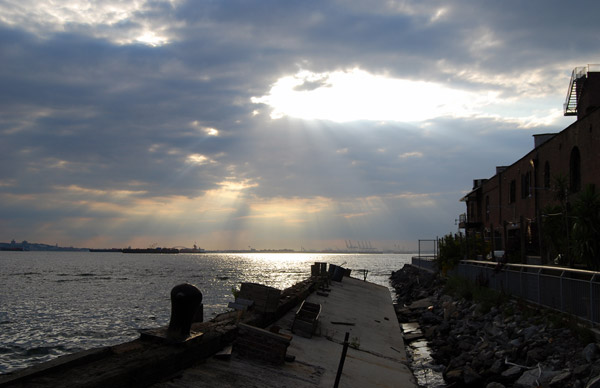 In addition to the slight pricing difference Red Hook is not that easy to get to. You can walk from the 9th Street F train stop, or take the M61 bus, which runs from 9th Street along Van Brunt Street. The ferry from Ikea to Pier 11 in Manhattan is another option, although they recently started charging $5 each way unless you spend $10 at Ikea. Basically, if you're up for furniture shopping, exploring the neighborhood, or heading out to the food stalls at the Red Hook ballfields, stopping in for a roll is a must. But if you're in the East Village, you can do just as well at Luke's.
Red Hook Lobster Pound
284 Van Brunt Street, Brooklyn
Wed 12pm-8pm Thurs-Sat 12pm-9pm Sun 12pm-8pm