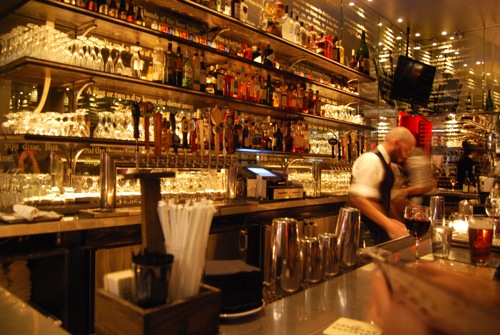 I didn't think DBGB was my kind of place. The name itself seemed like an unnecessary wink at the gentrification that's been creeping up the Bowery above Houston Street. The shell of CBGB, a block away, has become a marketplace for designer fashion, and the upscale hotels and condos popping up around it are rapidly transforming the strip into a frolicking ground for the rich and fabulous. DBGB, housed in one of these shiny new monoliths, is chef Daniel Boulud's take on a gastropub, and reading about his restaurant Daniel–considered one of the best in New York–is what finally piqued my interest in the downtown spot. Even though the menu is essentially comfort food, everything we had was excellent. In fact, this was one of the best meals I've had in a while.
We arrived at around 7:30 on a Friday evening, hoping that even though the dining room was booked (in fact, there were no reservations available until Monday) we could snag a table in the cafe area. We were seated immediately at the bar, where the full menu is offered. Although it was roomy enough for two people, it would probably be awkward seating for more. We did have a couple hovering behind us for part of the night but since we were seated with our backs to the room, the scene behind us hardly seemed to matter.
I started out with a pear sidecar cocktail, with Bulleit bourbon, peat liqueur, lemon, and rhubarb bitters ($12). If you like potent cocktails with just a hint of sweetness, this was a solid drink. I followed that up with the special beer on tap, a malty Hof Ten Dormaal dark farmhouse ale ($11). I'm not sure if this is regularly offered, but either way, beer lovers won't be disappointed with the over 20 beers on tap, including a bevvy of Belgians.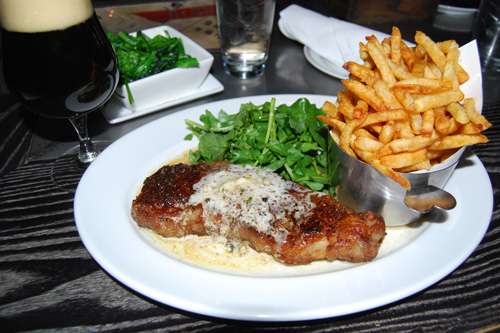 For an entree I ordered steak frites ($28). The steak was a 10 oz black angus New York strip topped with peppered butter. I ordered it medium to medium well and it arrived I bit more well done than I would have liked, but it was tender and perfectly seasoned. The fries were fantastic, with a perfect thickness and crisp outer shell. The steak came with a small salad of watercress dressed with zesty vinaigrette, and I also ordered a side of buttery broccoli rabe ($7) for added greenery. It was a good-sized portion, and anyone who knows me knows I rarely clean my plate. This time I ate ALL OF IT.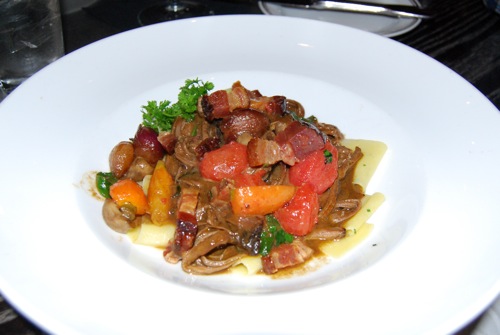 My dinner companion ordered the house-made pappardelle bourguignon, with slow-cooked brisket, red wine, pear onions, mushrooms, smoked bacon, and herbs ($23). This was a perfect example of how comfort food can be both simple and complex. The sweet roasted tomatoes contrasted with salty cuts of bacon, which managed to be both chewy and crisp. I would order this on my next visit.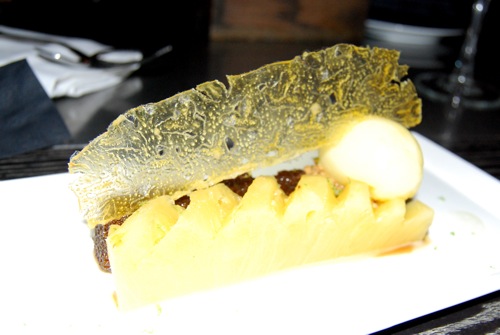 For dessert we split the sticky toffee pudding. This isn't regularly on the menu, since our server mentioned it was a winter dessert, but it should be. The toffee pudding was warm and similar to bread pudding in texture, with sweetness provided by chopped prunes. It was served with poached pineapples and kalamansi sorbet, which added a bit of cold, citrusy sourness, and topped with a paper-thin piece of caramelized sugar. We chased the various ingredients around the plate with our spoons, trying to catch all the flavors in one epic bite.
Our bill came to $128 for four drinks, two entrees, a side, and a dessert. In other words, Snackish will not be frolicking with the rich and fabulous on a regular basis, but on this night, it was money well spent.
DBGB Kitchen & Bar
299 Bowery between E. Houston and 1st St.
Reservations recommended for the dining room