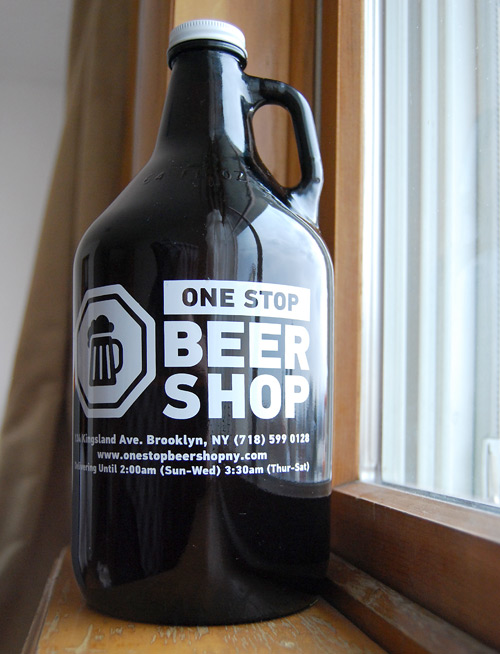 One Stop Beer Shop has barely been open for a month, so I admit my visits have been few in number. But I already see three compelling reasons to check it out:
Sorachi Ace from Brooklyn Brewery on tap. This is just a damn tasty saison style beer. It's dry, lemony, and bubbly, yet full-bodied and balanced with plenty of hops bitterness. Sample it alongside a few other brews and you'll appreciate its quiet complexity all the more. They have about 16 beers on tap and many more in bottles. You can peruse the rest of their beer list on Beermenus.
You live in Greenpoint/East Williamburg no-man's land, or your friends do. I don't mean Bedford Avenue or the place with all the quaint Polish restaurants. I'm talking about the primarily residential neighborhood near the BQE, one wrong turn away from where it gets pretty industrial. An area that's relatively affordable, and that has no nightlife at all. You can take that to mean there will be people in here, but you won't need to hover for a seat.
Growlers to go. A 64 oz bottle costs $4 and is usable for refills. The beers themselves range from $5 for Narragansett Lager up to $22, with most hovering in the $10-$14 range. So if you have something that's especially tasty, you won't need to go all the way to Breukelen Bier Merchants or Spuyten Duyvil Grocery to get extra to take home.
I have yet to try their beer cocktails and food menu, so I can only foresee this list getting longer.
134 Kingsland Ave. Brooklyn
between Beadel St and Lombardy St.
Sun-Wed 1pm-2am, Thu-Sat 1pm-3:30am