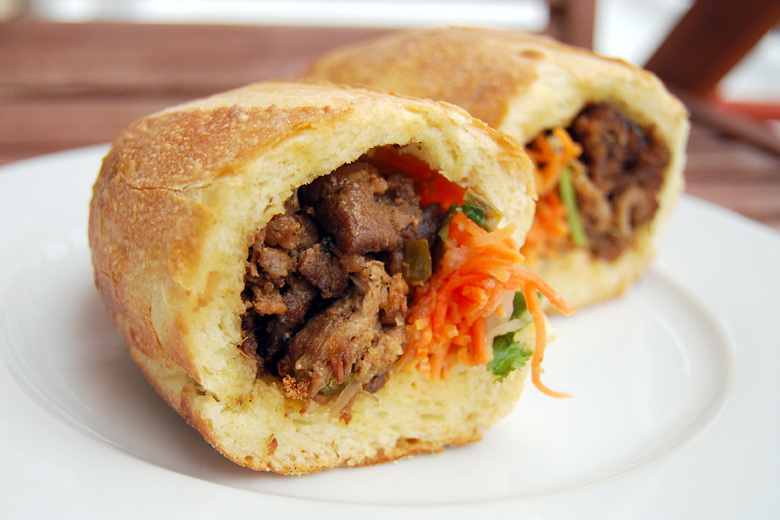 I know this will shock some of you, but I'm not a huge fan of banh mi. Which is a shame, because these Vietnamese sandwiches are probably the best bang for your buck when it comes to a flavorful under-$5 meal. And it's not entirely true either, because I've had banh mi from Saigon Bakery and elsewhere that I've mostly enjoyed. The key word being mostly. There is usually some degree of discomfort involved because, here is the thing, banh mi just has to be so goddamn funky.
In your traditional banh mi you'll find a scraping of liver pâté, a gelatinous layer of headcheese, a splash of fish sauce, pickled vegetables, and a few other odds and ends. Yes, there is a pleasing harmony of taste and texture, but there's also a noticeable "aura" about it. Travel anywhere with this sandwich and it will stealthily overtake your environs with eau de banh mi. Sometimes I can handle it but there are days when I require a variation on the recipe. Enter the Hog from Xe May Sandwich Shop.
The Hog keeps it real with pickled carrots, cucumber, and daikon, but replaces the funky bits with tender, juicy grilled pork, scallion oil, fried shallots, and chili mayo. It's served on an absolutely perfect fresh roll that's crusty but not too hard or a flaky mess in the making. To answer the inevitable question of spicy or mild, the chili mayo gives the mild version a pleasant kick, so I usually order it that way. The spicy version amps it up with jalapeños and Sriracha—I'll ask for medium spice when I'm feeling daringly non-comittal. At $6, it may be pricey for bahn mi territory, but for one of my favorite sandwiches it's a steal.
The East Village has no shortage of banh mi places, including Baogette, Banh Mi Zon, and Nicky's–which is now apparently called Vicky's but like the nouveau old-timer I am, I insist on calling it Nicky's. Xe May has become my go-to spot, though. Seating is extremely limited and takeout requires at least ten minutes' idling unless you call ahead, but the guys here are ridiculously nice, the quality is great, and they have banh mi tacos, which I've yet to try but sound intriguing. If you need another reason, it's practically next door to Puddin', without which my life would be incomplete. Sometimes there is a wonderful logic to this crazy, crazy town.
Xe May Sandwich Shop
96 St. Mark's Place between First Ave. and Av. A.
Sun-Thurs 12pm-11pm, Fri-Sat 12pm-1am