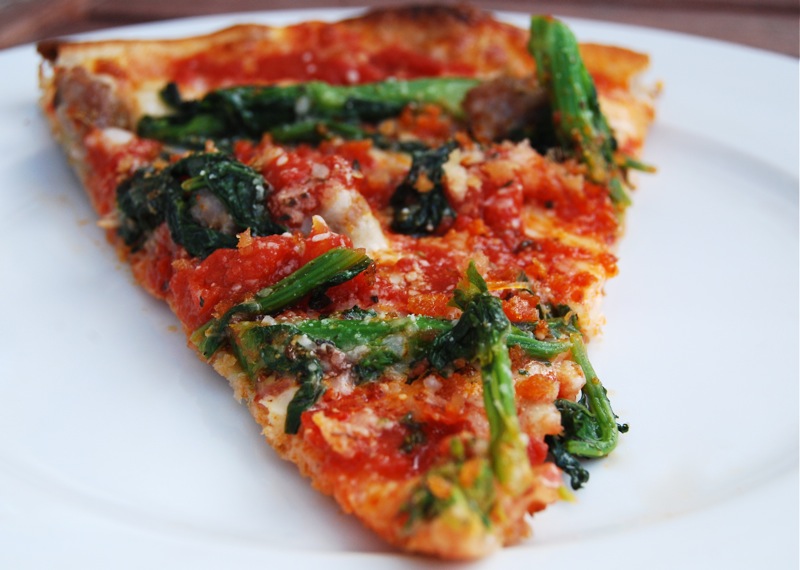 Reading the New York Times' review of Nicoletta was a little like watching a particularly nasty football tackle. I mean, the guy had it coming, since he was all mandexed out, helmeted, and running into a wall of eleven other guys. But—ouch! It still hurt to watch.
Calling the crust "strong as epoxy," "stiff," "bland," and then slamming the toppings as "overburdened conglomerations of cheese, flour and fistfuls of other stuff," Times critic Pete Wells dismissed the eagerly-awaited new pizzeria with zero stars. Chef Michael White, who has overseen five favorably-reviewed, high-end Italian restaurants, received equally damning reviews for his pizza venture from Bloomberg and Time Out New York.
What's with all the critics piling on this place? I liked the pizzas I tried.
Here's what I think the issue is: aside from the high expectations factor, Nicoletta's pies are not in the style that's in vogue in New York. These are not super thin crust, certified-authentic Neapolitan pies, with their delicate harmony of San Marzano tomatoes and fior di latte, that must be consumed within two minutes of coming out of the oven lest they become a soggy, congealed mess. If eaten regularly, Nicoletta's pies will not let you keep your trim figure, nor do they resemble anything coming out of a fancy restaurant kitchen, despite the price tag. These are Midwestern-style pies inspired by White's native Wisconsin. The crust is crisp and sturdy, somewhere in between a buttery deep dish and a doughy, foldable New York street slice. It's meant to hold up on a delivery route. My snacking sidekick said he tasted a "frozen crust" quality–I might have called it Domino's-esque–but of a much higher order. This crust is necessary because the toppings are, in a word, hearty. You will deeply hate yourself within an hour of eating an entire pizza by yourself, and looks are deceiving, because the pies are not big. Just split one and stick with two or three slices if you know what's good for you.
The first time I made this mistake was when I ordered my very own Parmigiana pizza ($18). This pie had crispy fried eggplant, creamy mozzarella, a layer of ricotta, a layer of chunky pomodoro sauce under that, and a doughy yet substantial crust that held up to the heft. It made Neapolitan pies seem positively anorexic, and though I enjoyed it I definitely regretted that third slice. I was a little wiser next time, when I ordered the Estiva pie ($20). This is a white pie with ricotta and mozzarella di buffalo, topped with corn and cherry tomatoes marinated in vinaigrette. It had a thinner, more cracker-like crust, and was my favorite of the three pies I tried, even though the toppings presented some difficulty with their tendency to slide off the slice. Still, I could eat three or four slices before my belly was full. Falling in between these two on the self-hatred scale was the Salsiccia pie (pictured above, $20). This was sparsely topped with mozzarella, but had plenty of marinated tomatoes, tasty fennel sausage, broccoli rabe, garlic, and kicky, smokey calabrian chiles. It's an intensely flavorful pie, but just remember your two-slice rule. Although I haven't tried it yet, the carbonara with cream, egg, and pancetta sounds like it could be the perfect gut bomb to end to some mildly drunken evening.
And that's another benefit—Nicoletta, which occupies the former Centosette space, is open until 3am, and has sidewalk seating ideal for taking in the evening goings-on along Second Avenue in the East Village. If you live in the neighborhood, there's a side door for takeout, with pies ready in a swift ten-to-fifteen minutes. It's worth checking out, if you're a bit tired of fancy Neapolitan pizzerias (really, do we need another one of those?) and if you and your dining companion can actually decide on a pizza to share. But if not, hey there's always leftovers.
Nicoletta
160 Second Ave. at Tenth St.
Mon-Fri 5pm-3am; Sat-Sun: 1pm-3am