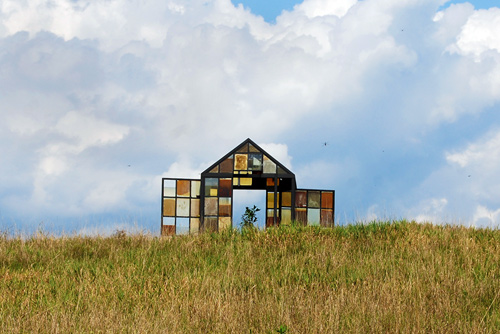 Storm King is one of my favorite arty-zen places in upstate New York, and it's as good a place as any to chill out and search for one's photography mojo. Located an hour's drive north of Manhattan, Storm King is an outdoor museum featuring mammoth sculptures scattered over 500 acres of fields, woods, hill, and ponds. The landscape is a stunning frame for these works, when it is not integrated into the works themselves; while the shifts in daylight and seasons means that nothing ever looks quite the same.
What made my visit particularly enjoyable were the new pieces, appearing unexpectedly on the old meandering paths I recalled from previous trips. On the walk back from Maya Lin's Wavefields (a meadow of rippling hills, like grassy sine waves), a sparkling stained glass cabin appeared on the crest of hill. Solarium by William Lamson, part of a special exhibition on Light and Landscape, is a small house constructed of steel and glass tiles. Caramelized sugar baked into the tiles gives each a unique hue from topaz to deep amber, catching the light of the afternoon sun. Inside, a simple table holds a few plants which drink up the sugar-filtered light, a playful reference to the sugars created by plants through photosynthesis.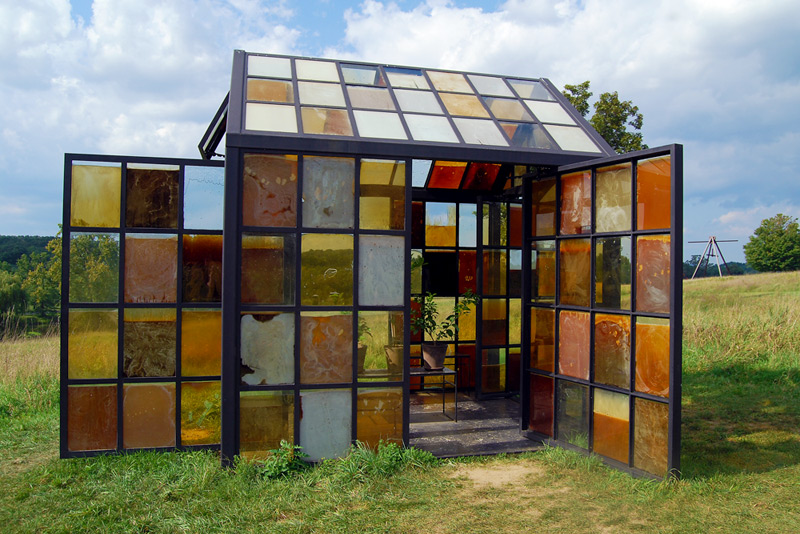 Although it's suggested that this is a meditative place, by accident or design an unnerving number of bees were attracted to the sugar lying beneath the panes; I walked through gingerly but meditating with the risk of getting stung would be challenging. As part of the weird ecology of the exhibit, more dragonflies than I have seen in my life were abuzz on the hillside, preying on the bees or who-knows-what. The whole place had a Jurassic age meets Myst meets church vibe I have never encountered anywhere, certainly not in an indoor museum.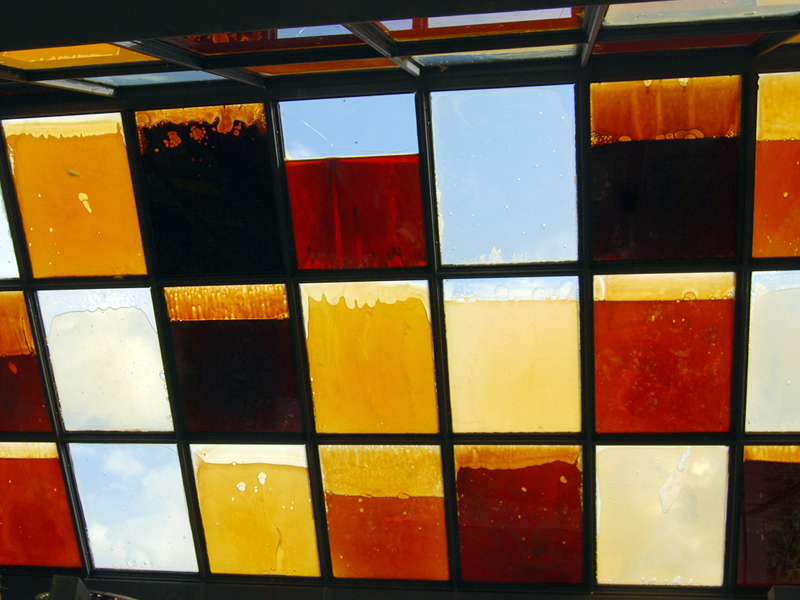 There's much more to see at Storm King, and the landscape is only going to get more beautiful in the autumn. Check out photos from my visit and if you go, wear long pants and be on the lookout for deer ticks. The Light & Lanscape pieces are on display until November 11. For more chilled-out arty sightseeing in upstate New York, check out my photos from Opus 40 and Olana.
Storm King Art Center
Wednesday through Sunday, 10:00 am to 5:30 pm; weekends only after Nov 11, closed Nov 25-April