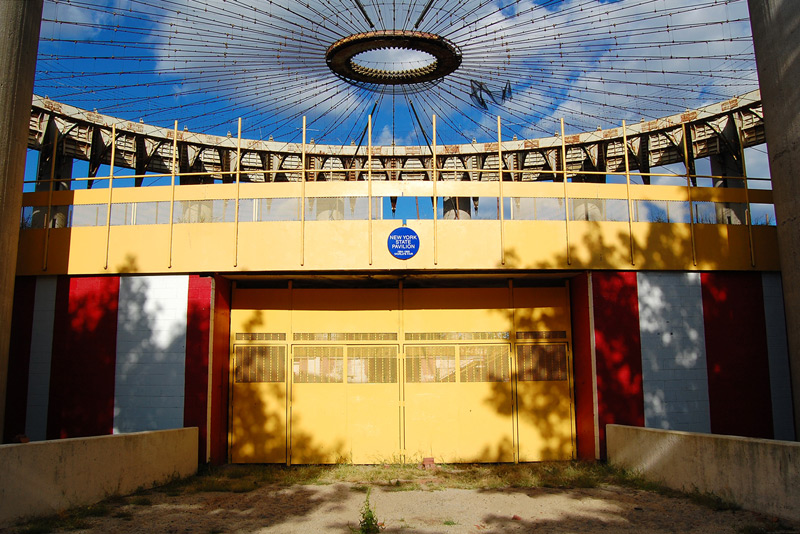 The Tent of Tomorrow is the closest thing New York City has to an abandoned carnival. A decaying ellipse festooned in candy cane stripes, the structure features 100-foot-tall columns which once supported a translucent plastic suspension roof larger than a football field. Today vines climb the columns, bare cables are all that remain of the roof, and a skeleton of spiked arches encircles the top like a rusting crown. It's an H.R. Geiger meets 30s Art Deco urban-decay dream, and if I were the heroine of a fantasy novel where I must find a time portal, I'd look here first.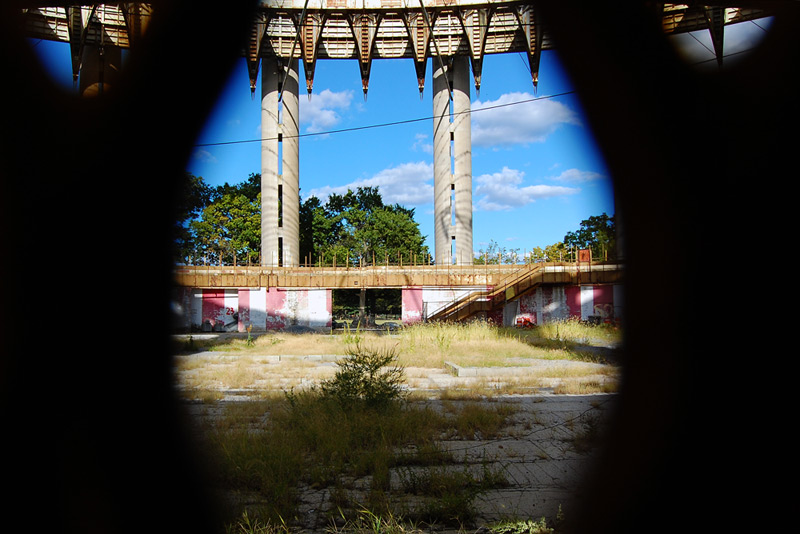 The tent, also known as the New York State Pavilion, was designed by Philip Johnson for the 1964 World's Fair. The fair was never officially sanctioned by the Bureau of International Expositions, but since it was overseen by Robert Moses, it was Going to Happen regardless of global disapproval or the implied financial disaster. The event's theme was "Man's Achievement on a Shrinking Globe in an Expanding Universe," and its most famous symbol is still the Unisphere, a 12-story stainless steel globe that's now the hangout of skaters and wedding parties with glamourshot photographers in tow. The Unisphere was restored and granted landmark status in the 1990s, but it seems somewhat sterile compared to the nearby pavilion, which has been left to a fascinating collapse.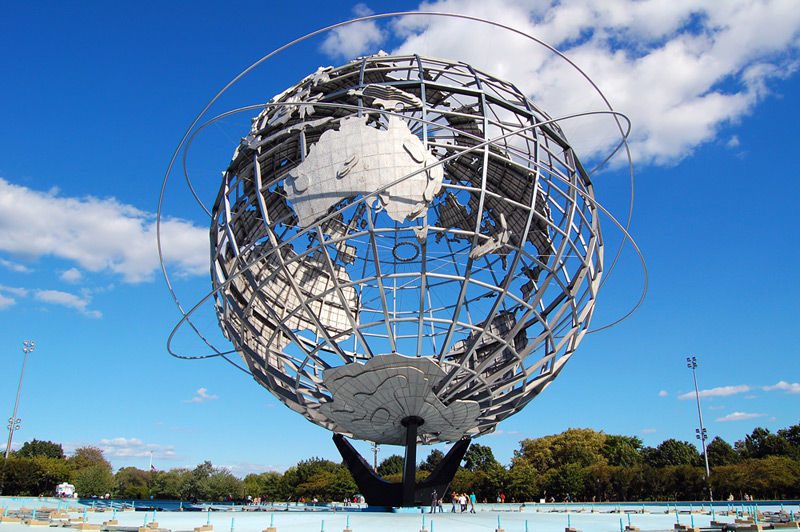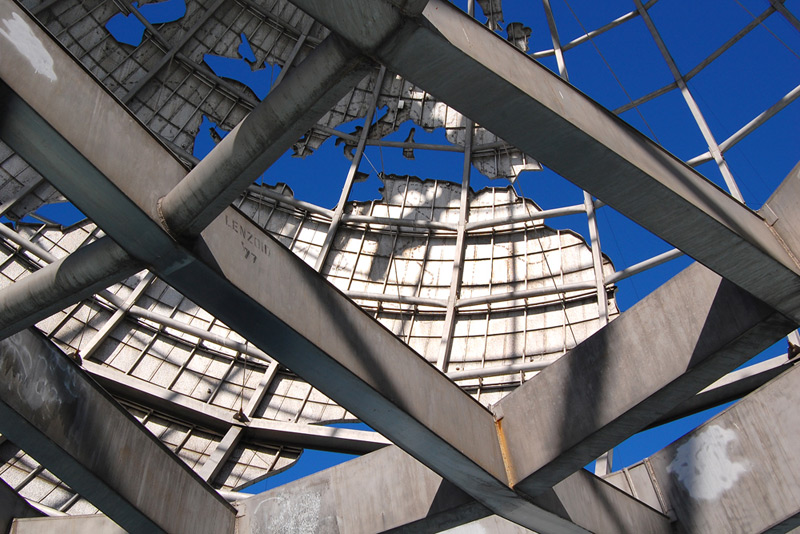 Walking around the Tent of Tomorrow, one feels haunted by the optimism of another era. More than 51 million people attended the World's Fair, where spectators could visit exhibitions featuring early computers, telephone modems, and space-age technology. You could, at various exhibits, tour a moon rocket, have a computer match you with a foreign pen pal based on a questionnaire, make a telephone call and see the person talking to you, watch the "creation of a miniature sun" at an atomic energy demonstration, or view a model of an undersea city.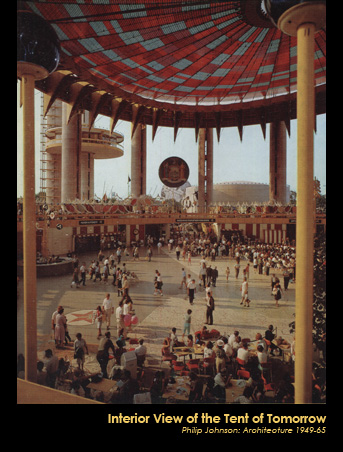 (Source: University of Pennsylvania Architectural Conversation Laboratory)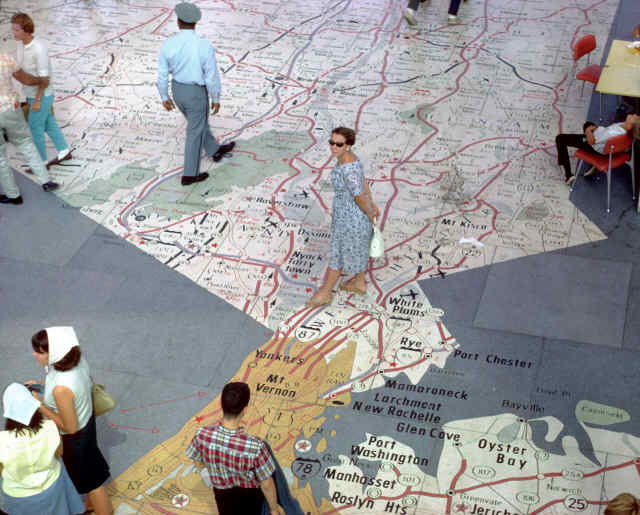 (Source: TentOfTomorrow.com)
Today you can watch feral cats and raccoons creep across a weedy surface that was a terrazzo map of New York State–the world's largest map. Three flying-saucer shaped observation towers, once scaled by elegant "Sky Streak" elevators, are now unreachable without a dash of insanity and sturdy grappling hooks. The very name "tent" evokes mankind's earliest dwelling apart from nature, and this one proves how quickly nature can reclaim the grandest schemes.
There are a few hopeful signs that the Tent of Tomorrow won't be left to deteriorate completey: it received landmark status in 2009, and a group from the University of Pennsylvania has worked to restore parts of the terrazzo map. On a recent visit the walls appear to be freshly painted and a human-sized hole in the chain-link fence, remembered from a past visit, has been fixed. It appears that the structure hasn't been completely forgotten, but it's still in a pretty ruinous state; staying on the outside is recommended and visiting with a buddy, especially near dusk, is probably smart.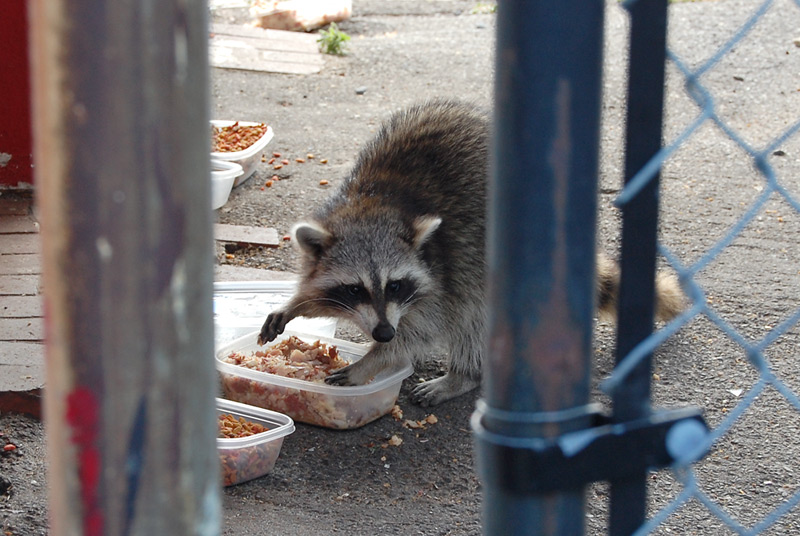 (keeping an eye on the pesky human)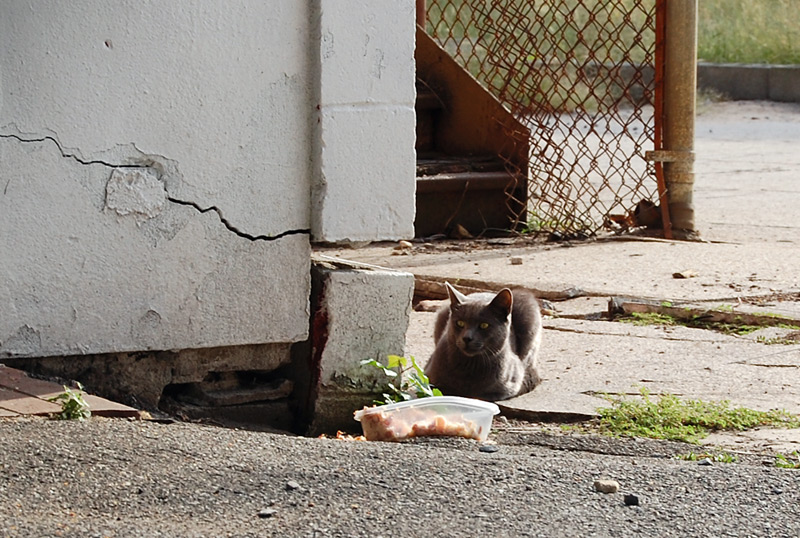 (keeping an eye on the pesky raccoon)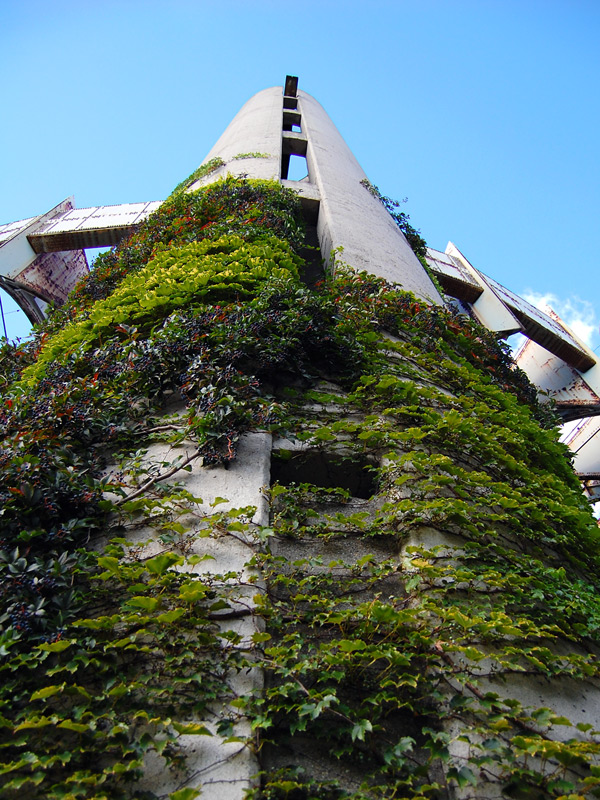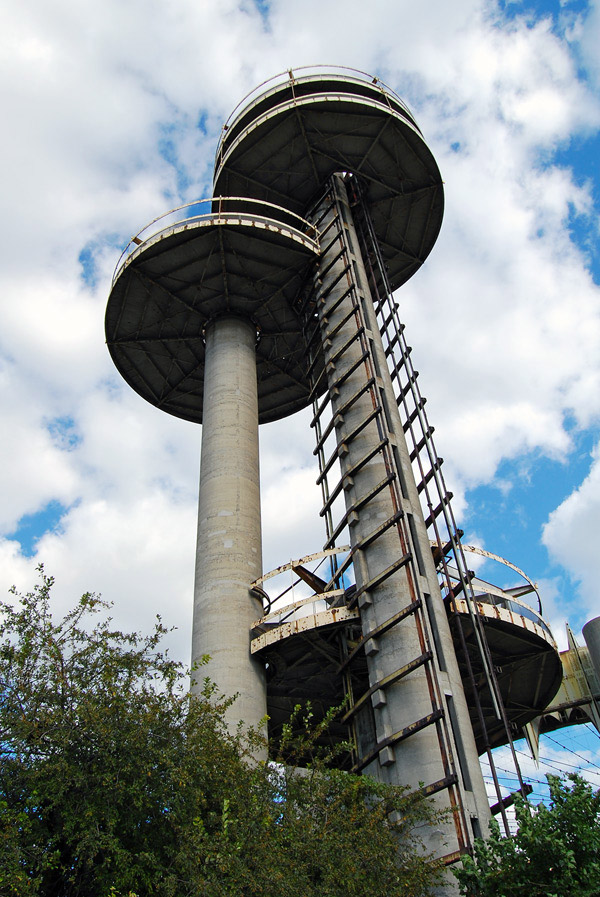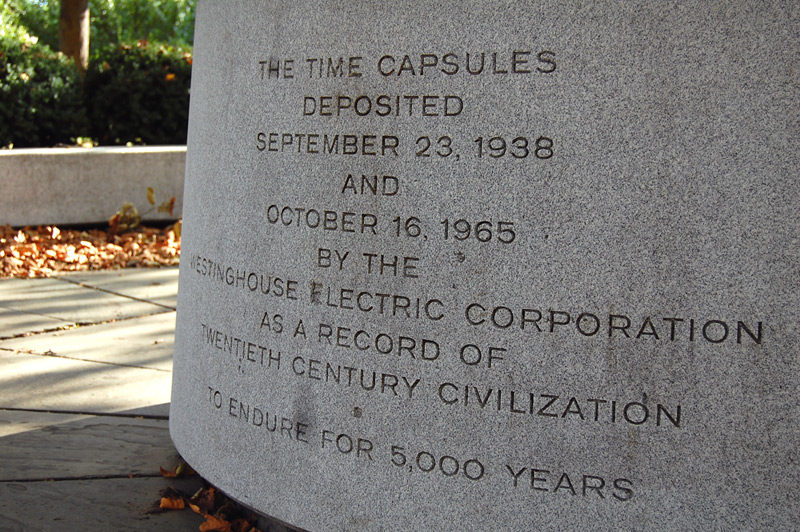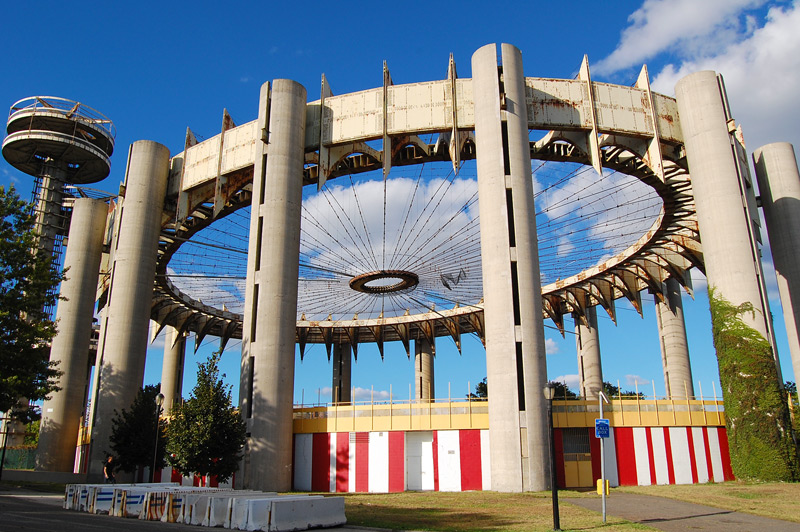 The Tent of Tomorrow is reachable from the Mets-Willets Point stop on the 7 train
Walk South past the tennis courts, rail yards, and the Unisphere, and you should see the observation towers in the distance