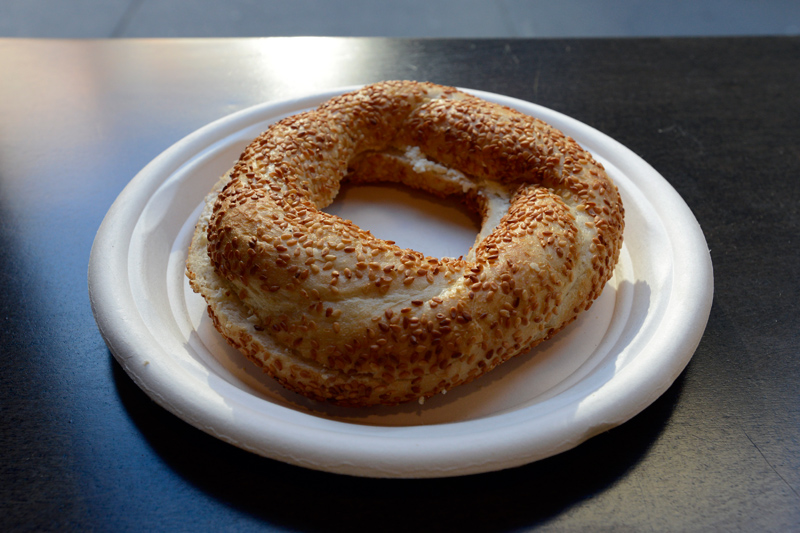 In a rather brilliant post from FirstWeFeast.com called "20 Things Everyone Thinks About The Food World But Nobody Will Say," the writers divulge the sad fact that actually, most New York bagels are terrible. It's true that finding a good bagel in Manhattan is harder than it ought to be, seeing that New York City is supposed to be the bagel capital of the universe. But I disagree when they mention that buzz about Montreal-style bagels is merely proof of the New York bagel's demise. I'm excited to discover breadstuffs from other parts of the world in my town; it's one of the reasons I live here. Feed us your delicious starchy things, I say.
Like an answer to a prayer, now we have Simit & Smith, which just opened on 72nd street last month (they're expanding to the Financial District this year). I have no idea who Smith is, but simit is also known as a "Turkish bagel"—a round, doughy piece of bread with a large hole that's crusted with sesame seeds—although it's not boiled before it's baked like a bagel. Versions of simit, with varying sizes and levels of crunchiness, have existed for centuries in the Balkans and the Middle East, where they're typically sold by street vendors.
I stopped into Simit & Smith for a quick snack today and I thought my simit seemed pretty similar to a very good soft pretzel, like you'd get at Sigmund's. The crust is crisp, contrasting with a tender and chewy inside. Sliced in half and served with a topping of your choice, simit gives you a wonderful ratio of crispy, chewy, and spread, whereas bagels veer toward the overwhelmingly dense and doughy. At Simit & Smith the spreads include cream cheese, olive paste, kasseri cheese, nutella, or peanut butter and jelly, and I can attest that they're pretty good plain too (all $1.99-$3.99). They also offer a variety of sandwiches served on flat loaves.
If the interest of passersby was any indication, Simit & Smith will do well. Many stopped to take a hard, inquiring look at the menu posted in the window; sometimes their eyes then darted to me, perched in a window seat, chewing a large piece of bread while bopping to "Fever" (a side effect of very sweet, jolting Turkish coffee, not a habit), and they'd come inside to give it a try. Head's up to any bakeries out there: if you need someone to sit in your front window saucily eating baked goods we might be able to work out a deal.
Simit & Smith
124 W. 72nd St. Between Columbus Ave and Amsterdam Ave
Mon-Fri 7am-7pm, Sat-Sun 8am-7pm