The Secret Cabinet of Pompeii

Ancient Romans had a certain fondness for erotic art. The excavation of Pompeii and Herculaneum, which had been buried beneath volcanic ash as if frozen in time, betrayed a societal frankness about sex that scandalized the people of the 18th and 19th centuries. This was beyond the odd nude sculpture–they found penis-shaped objects, dirty graffiti, fornicating statues and explicit frescoes all over town, as if the middle ages had never happened. The public, they reasoned, simply could not handle this, and they hid the objects away in a "gabinetto segreto," or secret cabinet. For many years the cabinet was only open to gentlemen of "high moral standing," and over time, it became rather infamous. Around the year 2000, the collection was opened to the general public and you can see it today at the Naples Archaeological Museum, provided you're over 13, or accompanied by a guardian.
When you enter the secret cabinet wing of the museum, it's useful to remember how these pieces would have appeared in their normal environment. One thing is immediately obvious–penis imagery was ubiquitous in this society. Fascinus, a Roman god depicted as a phallus, was thought to have the power to ward off evil spirits, and lucky phalluses appeared on walls, streets, lamps, paintings, amulets and even as wind chimes, cast in bronze and strung with bells. I doubt that anyone was hoarding a pile of them, as they're displayed here, but I could be wrong.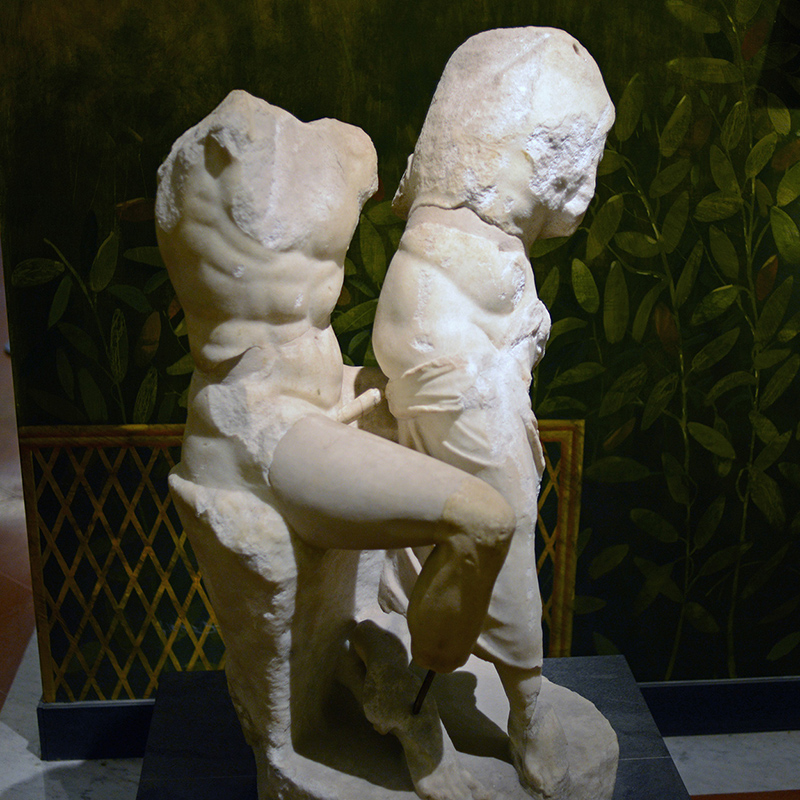 Some of the frescoes were originally located in bath houses or brothels–Rome had legal prostitution, and in that context, this is reasonable mood-setting decor. Other artworks were found in luxurious homes, such as a mosaic of a satyr and a nymph found at the House of the Faun, so there is high-class stuff in the mix as well.



And then there are pieces that are hard to contextualize. The most famous is a sculpture of the god Pan having sex with a goat, which was originally found in the garden of a lavish villa. It caused a stir as recently as 2013 when it was openly displayed at the British Museum (with a PG-13 warning), instead of curtained off. It certainly packs a punch, capturing a strange tension between impulse and acquiescence, human and beast, that stops you in your tracks.

But if your religious beliefs included horny satyrs, you might not bat an eye at this. I suppose the most shocking thing about it is that it survives at all. Later generations would have found it too obscene or embarrassing to endure, and it's amusing to think of these objects rising from the ashes in all their bawdy glory, winking at the prudes of the future.
By the way, there are many other wonderful artifacts from Pompeii on view at the museum. I'd highly recommend a stopping by on your way to the archeological site, as it's the only way to see the treasures that were found there.