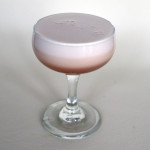 So, I'm facing my fear of making cocktails with egg whites. Here's a homemade Ebbets Field–don't even bother with the Complete Cocktail recipe, since it calls for an unreasonable amount of Pernod, and the egg white won't foam properly without lemon.
2 oz bourbon
1 oz fresh lemon juice
¾ oz grenadine
¼ oz Pernod or absinthe
½ oz egg white
Dry shake until your arms beg for mercy. Add ice and keep shaking for another 30 seconds. Put your feet up and enjoy that hard-earned foam!